︎ iPartners (2021 - 2022)

UX Designer

︎︎︎

Project 1
Homepage Redesign

Project 1 Premise


One of the first major projects I was a key part of was the Homepage Redesign for iPartners. This project is split into two phases, the first of which is complete and consisted of a complete overhaul of the existing homepage. Phase 2 is currently underway and consists of minor UI updates to align with style guide changes.

In this project, I was the UX lead - overseeing research and determining the direction of the design while also adhering to the brand guidelines established by the marketing team. The experience of being able to see a project through from start to finish was incredibly valuable to me. I learned how to integrate stakeholder requirements into the design decisions informed by our research and brand identity. The design team worked closely with the marketing team to determine the product, constraints, and success metrics. After the iteration phase, I worked with the engineers to ensure a smooth launch of the homepage.


Challenges

💭️ How do we build trust at this touchpoint as effectively and efficiently as possible?
💭️ How do we determine the flow of information displayed?
💭️ How will this tie in to the existing information architecture on the website?


Impact

+20% increase in registered users and +35% uptick in unique vists to the website, while experiencing a significant drop in bounce rate for the homepage.

Stakeholders


Marketing Team
Co-founders


Team

2 Designers 🖌
1 Researcher 🔎
3 Engineers 🧑‍💻

---
Project 2
Knowledge Hub
Knowledge Hub Landing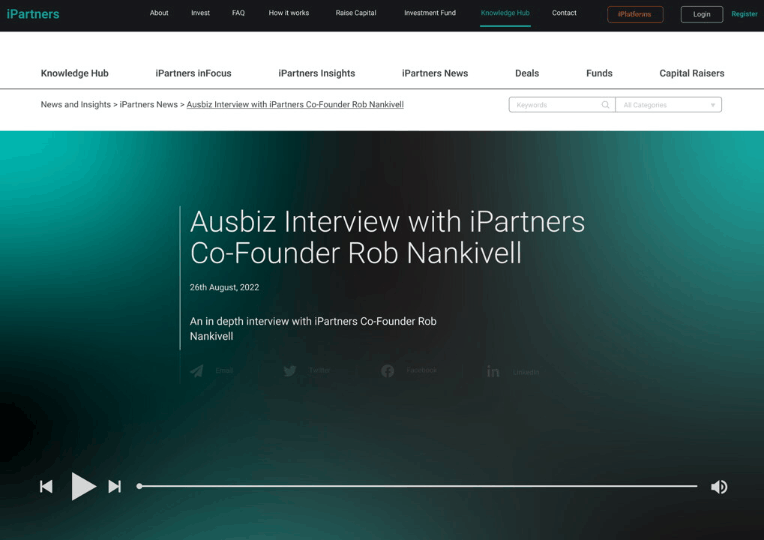 Podcast Content Typology
Project 2 Premise

The Knowledge Hub is a major overhaul of the Insights section of the current website. The goal of the design was to establish iPartners as a household name for financial education and insights in Australia, taking cues from Blackrock, Investing.com, and so on.

As the lead designer, I worked closely with the UX researcher and marketing team to determine the requirements of the project and how we were going to approach each content typology. We revamped the information architecture - building a new system from the ground up of organizing existing content while also prepping for new incoming content. Mobile designs are currently WIP.


Challenges

💭️ How do we categorize existing articles in a way that doesn't alienate the existing user base?
💭️ How do we build a flexible information architecture that absorbs existing content and provides a solid foundation for new content?

Stakeholders

Marketing Team
Co-founders


Team

1 Designer 🖌
1 Researcher 🔎
5 Engineers 🧑‍💻

---
Project 3
Bonds Trading Module
Bonds Module Mockups
Investor Dashboard Integration
Browse Product Page
Backend Product Editing
Project 3 Premise

My role in this project was lead researcher and designer. The goal was to design and ship a comprehensive Bonds trading platform within a tight time frame in order to secure a client for the iPartners investment platform. To design this module, I had to do a deep dive into bonds as an investment product and understand how they were traded.

Working with the head of sales, I created multiple wireframes and performed user testing with a specific segment of our user base that was familiar with bonds. The finished design was handed over to the dev team and I oversaw the process and made sure the product was delivered on time.

Due to the confidential nature of the module, I'm only allowed to share a very high-level overview of how it looks and operates.


Challenges

💭️ How do I learn the trading fundamentals of bonds AND design a functional trading platform for the client within a month?


Impact

Secured client for the investment platform, as they requested the bonds trading platform to be a necessary module. As a result, iPartners secured $5M in funding from said client.
Stakeholders


Sales Team
Co-founders


Team

1 Designer/Researcher 🖌🔎
2 Engineers 🧑‍💻
---
Project 4
iPartners Design System
Premise

Picking up where the previous UX designer left off, our goal was to establish a new set of stylistic rules and guidelines for the website and investment platform. Keeping in mind the brand's core user base and identity, we worked closely with marketing to rethink the brand's identity and how we were going to communicate this through a new design system.

Instead of completely changing the branding of iPartners, our goal was to take existing components and styles and modernize them, as to not alienate the current user base and at the same time welcome new users.


Challenges

💭️ How do we create a flexible design system that feels simultaneously familiar and like an upgrade?


Impact

After implementation of the updated design system, positive user feedback doubled for the investment platform.
Stakeholders

Marketing Team


Team

3 Designers 🖌
︎